Examples of Trading Signals
Trading signals sent always include clear and simple information. We always use exact stop loss and take profit levels. No hidden sub-levels. Each alert comes with plenty of information: Open / Close price indicating an execution price on our account, placed SL / TP levels, commentaries from our traders on what you are expected to do, alert id and position id for easy analysis. Please note: open and close prices are provided as a reference. We use market execution orders with immediate execution. All alerts are not pending orders and shall be executed as soon as received.
Simultaneously there could be only one trade for one currency pair. We do not use hedge trading or any similar type of trading. One currency pair = one trade.
Alerts Details
For each trade, there are always at least two alerts sent: one to open a trade and one to close a trade. An open alert includes Open Price, SL and TP level and comments from traders. A close alert indicates a reason for closing: Market Close, SL or TP price reached, Closing Price and comments from traders. Often we send an Update Alert. To update levels of stop loss and / or take profit, we send a new alert with corresponding information.
Personal page alerts and Email. For additional visual help, website personal page and email alerts are offered in three different colours. You will easily understand currently open signals and a direction of a trade. A closed signal alert with a "grey" background is available to the right; a "blue" background is shown for all "Buy" / "Long&quot trades; an orange background indicates a "Sell" / "Short" trade.
Once there is a new trade, we send instant notification to installed autotrader to execute a trade on your account (in case you use automated trading). At the same time, an alert becomes available on your personal page. SMS and Email alerts are sent to you (if any of these options is activated). Please note: SMS alerts are sent for an additional charge. Signalator does not control the delivery of either Email or SMS alerts.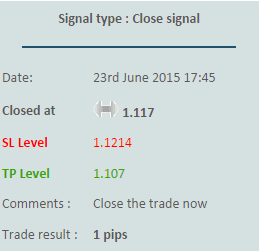 Delivery Options
Personal Page Delivery. All alerts are published on your personal page with our website. To check signals, please click the ""My Signals" page to view an overall table (displaying all currency pairs together). To view a detailed page for any currency pair, click on a corresponding link you like. You will find the current position and all alerts for this position previously sent.
Email Alerts. Email alerts can be sent to an email address you define with your details. You may have one email for your registration and another one for email alerts. We cannot guarantee the delivery of email alerts to your email. If you do not receive alerts, check your Spam / Junk folder.
Automatic trading. Automated execution of trades works any MT4 / MT5 trading account. It is available for free with any subscription. To read in more detail about the automatic trading, click here.
SMS Alerts. SMS alerts are sent to any mobile operator. However, there could be some limitations. As we use third-party services to deliver alerts, we cannot guarantee the delivery of SMS